Robin is a main character in Sago Mini. 
Appearance
Edit
Robin is a pink bird. She has a red torso, 2 wings, and 3 little spikes on her head. And a red beak.
Games that she appear in
Edit
Sound box: When you tap and hold on a ball, she might come out of it.
Bug builder: She only appears on the icon and the home screen.
Pet cafe: When you press the play button, she is cleaning the smoothie mahcine. She also appears on all 3 activites. 

Doodlecast: She appears on some of the pages.
Forest flyer: She is the main character.
Ocean swimmer: She is resting on an "island" with a straw hat on. If you go near her, she gives Fins a coconut with a straw. 
Monsters: Same as Bug builder.
Space explorer: She comes out of a giant robotic egg.
Friends: She is one of the playable characters. 
Road trip: She appears on the map of places to go.
Fairy tales: She is in a tree with a picnic basket. 
Toolbox: She appears on the game icon and is one of the charcaters in the game.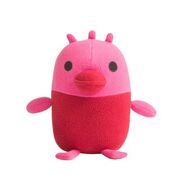 Boats: Same as road trip.
Babies: She is one of the playable charcaters. And she's a chick. 
Trucks and diggers: When you tap on on of the tools to gather dirt, she may appear in it.
Babies dress up: Once again as a chick she appears in this game. And you play dress up with her.
Planes: Same as friends.
Ad blocker interference detected!
Wikia is a free-to-use site that makes money from advertising. We have a modified experience for viewers using ad blockers

Wikia is not accessible if you've made further modifications. Remove the custom ad blocker rule(s) and the page will load as expected.