Jinja is a main character in Sago Mini.
Appearance 
Edit
Jinja is an oragne cat. She has 2 whiskers on each side of her head and  a cute pink nose. Meow meow. 
Games that she appears in
Edit
Sound box-she appears on the icon, home screen, and when you hold a ball, she will come out of it and fly away. 
Pet cafe- She appears when you first tap the play button. she is seen making pancakes. If you tap on her,she will say "Meow" and when all food is on the tray, she, Robin, and Harvey will pop up and eat. During the "put food in their proper places" activity. after Harvey eats, Jinja appears. When she eats something she likes, she will sway side to side and go "aah!" During the smoothie activity, when you're done with the smoothie, Jinja and friends will sit at a table, with the smoothie you made. tap and hold on a character to drink. 
Doodlecast- She appears in the icon and the home screen. When you are done with the story, she will watch it. When she's done, she will break the forth wall by clapping and meowing.
Ocean swimmer-She is on a boat floating on the water. When Fins goes near the boat, Jinja will give him a snack.
Music box- she is floating on a hot air balloon through the plains, mountains, and space. You tap on the grass, mountains, and sky and things appear. The song is Twinkle Twinkle little star.
Space explorer- she is floating in the same balloon. When Harvey flys near her, the to play catch. 
Friends-she is one of the main characters. 
Road trip- she is the star of this game. 
Fairy tales-she is also the star of this game. SHe lives in ahouse in a magical forest.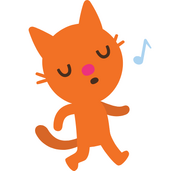 Toolbox- you can help her build a car, a puppet stage with puppets, and more.
Boats-  She appears on the map of places to go. 
Babies- She is one of the 4 babies in the game. She is a cute little kitten. Meow. Soooooo cute!!
Superhero- she is driving an ice cream truck. 
Trucks and diggers- she is seen inside some of the materials to put dirt in Rosie's truck.
Babies dress up-Once again as a cute kitten, she appears in the game, and you play dres
s up with her.
Planes- Same as friends
Ad blocker interference detected!
Wikia is a free-to-use site that makes money from advertising. We have a modified experience for viewers using ad blockers

Wikia is not accessible if you've made further modifications. Remove the custom ad blocker rule(s) and the page will load as expected.