Harvey is a main character in Sago mini.
Appearance
Edit
Harvey is a brown dog. He has a dark brown nose and spots on his back.

Games that he appear in
Edit
Sound box: On the list of sounds, he is on the icon for the dog sounds. and when you tap and hold a ball while playing with the sounds, he will come out.
Pet cafe: HEe his on the icon and hoem screen, and when you press play, he is reading a menu. He also appears in all activties.
Doodlecast: He appears on some of the pages.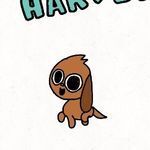 Forest flyer: He is having a picnic and he gives Robin stuff to eat.
Ocean swimmer: He is on a diving board. He jumps off it and into the water.
Music box: he appears on the icon. When you play with him, he is driving a boat in the ocean. You can tap on the islands, ocean, and sky to make stuff appear. The song is Row row row your boat.
Space explorer: He is the main character.
Friends: He is one of the playable charcaters in the game.
Road trip: He appears on the map of places to go.
Fairy tales: He is in a tall tower, this time he as blonde, long hair. It's not that long. Jinja uses her wand to give him a new hairdo, and he is happy with it. 
Toolbox: You can build him a doghouse, ect.
Boats:Same as space explorer.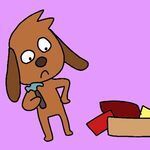 Babies: He is one of the playable charaters, and he's a puppy.
Trucks and diggers: When you tap on one of the tools to gather dirt, he might appear in it.
Robot party: Same as Space explorer and boats.
Babies dress up: He is again a puppy, and oyu play dress up with him.
Planes: same as friends.
Ad blocker interference detected!
Wikia is a free-to-use site that makes money from advertising. We have a modified experience for viewers using ad blockers

Wikia is not accessible if you've made further modifications. Remove the custom ad blocker rule(s) and the page will load as expected.